A Compass and A Lighthouse
Both Winter Guards Take Shows to New Heights, Prepare For Biggest Event Yet
Hang on for a minute...we're trying to find some more stories you might like.
2016 marks a big step for both winter guards. Coming off of a season performing with the marching band, this is the first year the district will allow the group to travel to Dayton, Ohio for the Winter Guard International World Championships, competing with over 600 groups over the span of two weeks. The varsity's show is entitled "We'll Be Just Fine," and the junior varsity's show is, "A Lighthouse's Tale."
"The competition is with a bunch of guards from around the world," freshman Alexis Plum said. "This is my first year in guard, so this is going to be my first huge competition."
The program as a whole started the season out with promising results – at their first competition, the NTCA Lewisville Winter Guard Contest January 30, both groups took first places in their class. Varsity came out on top in the National A class, and JV won in the Scholastic class, automatically moving them up to compete in the National A class for future competitions.
"For a couple shows, the varsity and JV were competing, in a sense," senior Emma Darby said. "It's neat because it means we have a consistently talented group of people. After our first regional, the varsity got first place, which is the first time that Wakeland's ever gotten that high."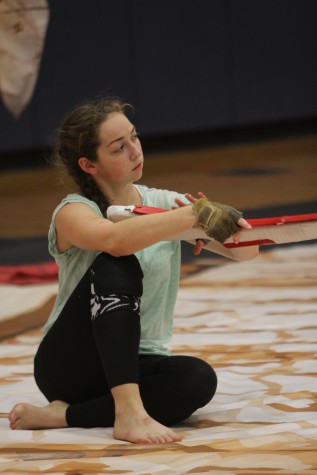 Katherine Kiesling
After the February 6 WGI Dallas Regional Competition, varsity was promoted as well, after taking another first place win, this time to the Open class. Their show, "We'll be Just Fine," is representative of their season. Their floor, a picture of a large map, is representative of their journey to Dayton, Ohio for the World Championships, with pins placed in Dayton and over Frisco, Texas.
"It's the concept of long distance relationships," Darby said. "It's about how even though you're apart, you'll still be loved and still be connected with each other, and even though it hurts to not be together, it's like the song says 'We'll Be Just Fine.'"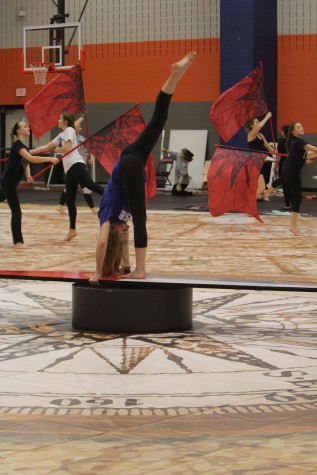 Katherine Kiesling
The JV's show features an ocean themed floor, telling the love story of a boy who falls in love with a girl on a beach. Their group includes not only guard students, but students who tried out during open auditions.
"It's been really good, we got moved up after our second competition," Plum said. "We have a long way to go, but we are doing really good."