Paige Musselman Is Wolverine Of The Week
FFA's President Is Your Wolverine Of The Week
Andrew Gross, WIN-TV Reporter
December 3, 2018
Hang on for a minute...we're trying to find some more stories you might like.
Paige Musselman, Wakeland's FFA chapter president, is the Wolverine of the Week. On top of lettering in FFA, her hard work and dedication has gotten her CDE team to state and earned her a county title for her goat.
   Every day, Paige has to drive to the barn, feed her goat, Oswald, change the water, clean his pen, and take him out to run and exercise to prepare him for the show. Her other responsibilities include leading the FFA chapter as president. This means organizing chapter meetings, other extracurricular events, and getting all of the members involved in the program. As well as managing all of this, Paige also has to study hard in CDE events for her milk quality team, where they answer various questions about milk and identify defects with multiple milk products.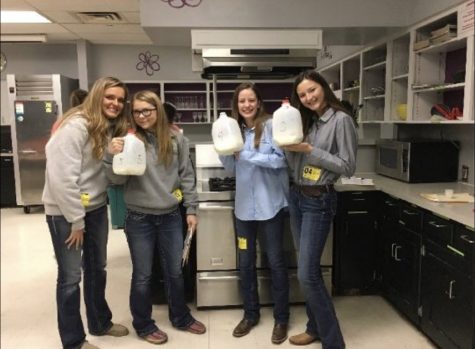 Paige admits that "Managing school with FFA, especially show team, is kind of difficult because I'm here (at the barn) every day for a long period of time, and I miss a lot of school for shows." When asked about how she manages school with FFA, Paige says that "over time, you just kind of learn to make it work.".