How to Perfectly Wrap your Holiday Gifts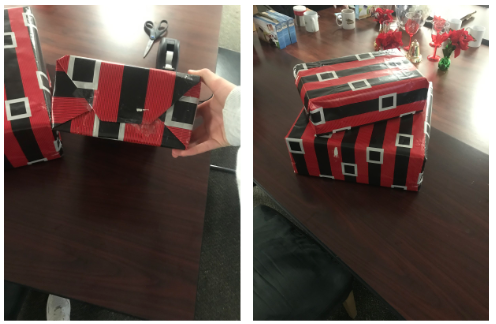 Katy Gregson, Wakeland Access Reporter
December 18, 2019
If you're trying to wrap the perfect gift, but don't know how, I have some easy, simple steps for you!
When wrapping a present, you will need certain materials to make your final product look perfect: gift wrap of your choice, tape (make sure it's clear), scissors, a bow, and to/from stickers.
Once you have all those materials you are ready to start wrapping and making the ideal present.
Steps On How To Wrap:
Make sure your box/gift is in the center of your wrapping. Make sure you're wrapping is inside out when wrapping, and the actual decorated paper side is facing the floor.

Next, take the top and bottom pieces of your wrapping paper and cover the top side of your gift and then apply two to three pieces of tape.

Then, flip your gift to either the left or right side.

When you have your side, you first are going to fold down the little top flap and apply one piece of tape.

Next, you are going to pinch the corners inward of each side and apply one piece of tape.

Then, you are going to fold the bottom piece of wrapping up and apply more tape.

Repeat on other side.

Next, put a bow anywhere on the top surface of your gift.

Lastly, put a to/from sticker somewhere close by where you put your bow.
After you finished all these steps your gift will have crisp, clean corners wrapped and will be topped off with a sparkly Christmas bow to make the gift out of the ordinary, and on top of all that you will have the perfect gifts shining under the tree on Christmas morning!