Cheer Into the New Year!
Wakeland High School releases a new cheerleading course for students to practice skills and techniques.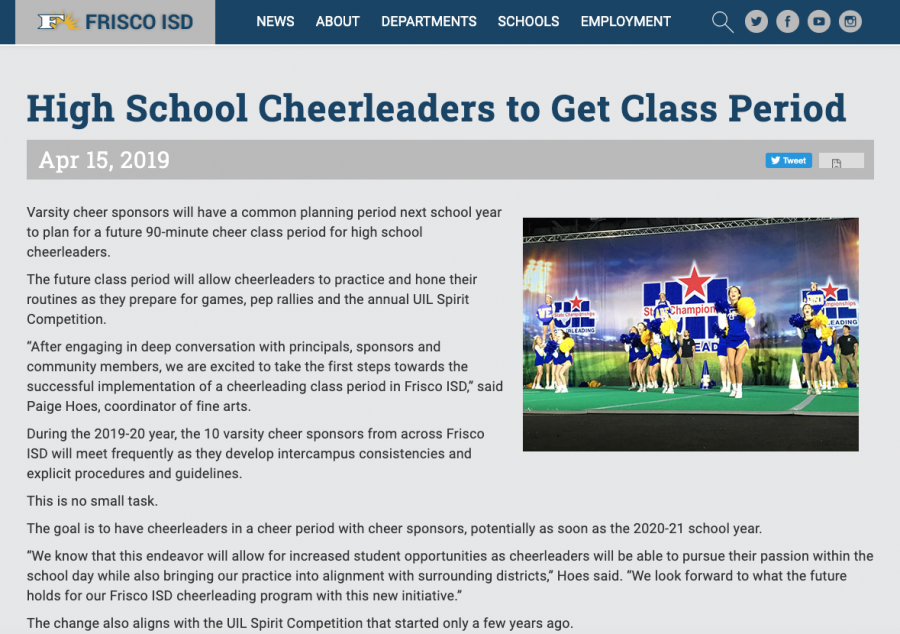 Jewel Curtis, Reporter
February 4, 2020
For the 2020-2021 school year, Wakeland is opening up a cheerleading class that anyone can join. Cheerleading is a hardworking sport that requires a lot of skill and teamwork. This course will open up opportunities for students who want to become more advanced in this sport and eventually try out for JV or varsity cheer.
"It's a great class for students who love cheer. They can really benefit from having a class just focused on cheer and nothing else," said Coach McCartney.
Making this sport an actual class will help students work on their technique and skill for cheer. They will be able to practice jumps, flips, tumbling, and stunting throughout the year. By offering this new class, it will allow the girls to do less outside of school and look better in games and performances. 
"​I'm not sure why it's taken this long for the district to implement a cheer class. Over the past few years, cheer coaches and parents have been advocating for this change and now we have a plan in place," said McCartney.
Before, cheerleading wasn't an actual course someone could take, but for this upcoming school year, they have finally made a plan to create this class. The girls would only practice twice a week, but this class opens up more time for practice so cheerleaders can become better and better.
Besides working on technique, the students will also prepare for football games, pep rallies, and paint and hang signs around the school. 
Later in the year, the cheerleading class will be in a UIL Spirit Competition, which is one of the biggest changes. It will be their first year to compete there.
"Cheerleaders will be able to actually practice efficiently and have more time to work on skills," said varsity cheerleader Emma Lopp.
Having extra time will help the coaches and cheerleaders be able to perfect the details on routines and learn new material.  The cheerleaders will represent Wakeland positively through this class.