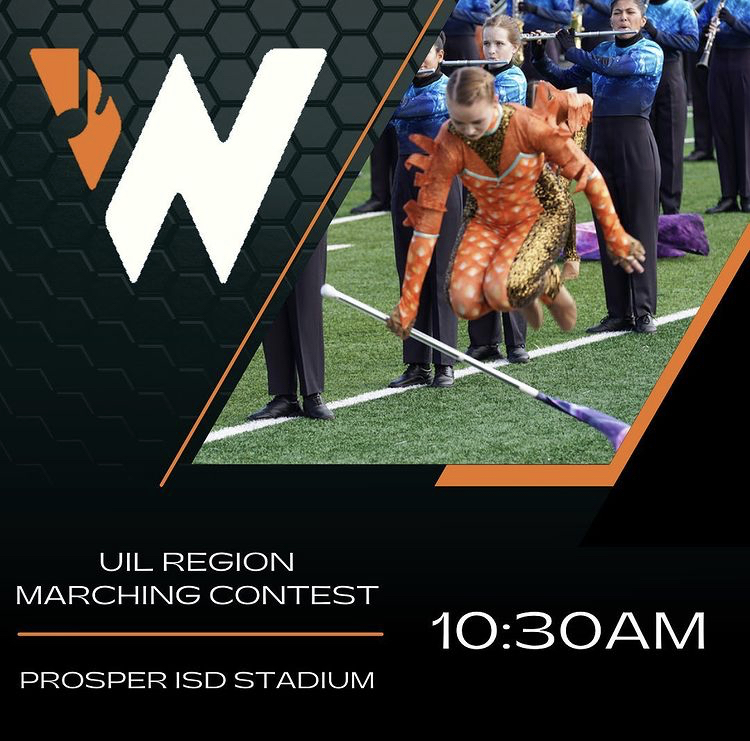 Photo courtesy of @whsbandfrisco on Instagram
As the season goes on, Wakeland Band has been preparing for upcoming competitions. The band starts preparing for competitions in mid-July during band camp. 
"The time leading up to competition is split into 3 sections of practice. We start with drumline camp where we learn the music with just percussion, then band camp where we start to put music on the field with marching and once school starts, we refine and modify it based on feedback from judges," senior James Powell said. 
Not only have they put in countless hours of practice, but they've also had to prepare for competitions by staying hydrated, using available time for homework and rest. 
"I've personally prepared for competitions by using any available time I have to finish homework and sleep so I have energy for the long competitions and so I don't need to worry as much about my schoolwork," Neubecker said.
The competition season started early Oct. with WHS Band starting the season out strong, placing 2nd as Class 5A Champions in the HEB Marching Contest on Oct. 2.
"HEB was amazing because we just all went out there with no expectations and we came back with a big win on our performance, and that really set the tone for BOA," junior Emma Thomas said. 
They won the 5A Outstanding Music Performance, 5A Outstanding Visual Performance, and 5A Outstanding General Effect Award at the contest on Oct. 2. 
"We have long 12 hour practices 6 days a week up until school starts in Aug.. During the school year, we rehearse 8 hours a week outside of school with early morning and late night rehearsals, and attend and perform at all the football games," senior Daniel Neubecker said. 
On Oct. 9, the band competed in the Bands of America Regional Competition, placing 7th and winning the Class AAA Outstanding Music Award. 
"BOA was such a fun day! We didn't have the best prelims run, but we absolutely put it all out on the field for our finals run and it really showed! We beat some other schools that we were hesitant of and getting to watch the bigger 6A schools was so awesome," Thomas said. 
Although competitions are top priority, the Wakeland Band still takes time to form endless friendships and bonds with each other.
"The band bonds through competitions through the different instrument sections. you spend hundreds of hours with your section in band throughout the fall and people build up new friendships and relationships and become very social in order to push through the season," Neubecker said.
This Sat., they will be competing in the UIL Region Marching Contest at the Children's Health Stadium in Prosper, Tx at 10:30 a.m.