Rooting for the Underpeacock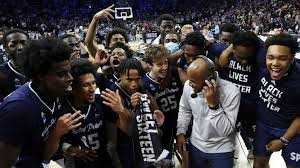 This March Madness has been one of the craziest tournaments yet. With unbelievable upsets and having only one overall first seed going into the final four. 
The ultimate underdog in this tournament was the Saint Peter's Peacocks being the 15th seed and making it all the way to the elite eight. 
According to abc.news, "this is St. Peter's fourth appearance in the March Madness tournament and first since 2011".
St. Peter's came in round one and broke a lot of people's brackets by beating Kentucky who was the second seed. Most thought it was just luck until they continued to defeat Murray the seventh seed in the second round and Purdue the third seed in the sweet sixteen. 
St. Peter's is a small private school in Jersey City, NJ. With a tight budget from this school, they could not afford to bring their cheerleaders to support them in round one. 
According to insider.com, the streaming service "Peacock sent Saint Peter's cheerleaders and fans to the rest of the games, created merchandise, and flew a Peacock banner over the Wells Fargo Center". Peacock streaming service was able to promote their service by also supporting St. Peters. 
"One Saint Peter's coordinator said the cheer squad cried 'tears of joy' over getting a chance to attend the games," said insider.com.  
St. Peter's is the first-ever 15th seed to make it to the elite eight and people had hoped they would go on to win it all. Sadly, their run came to an end in the elite eight losing to eighth seed University of North Carolina. 
St. Peter's was the ultimate underdog in this madness of March.