And They're Off!
Wakeland boys varsity soccer team advances to State Championship.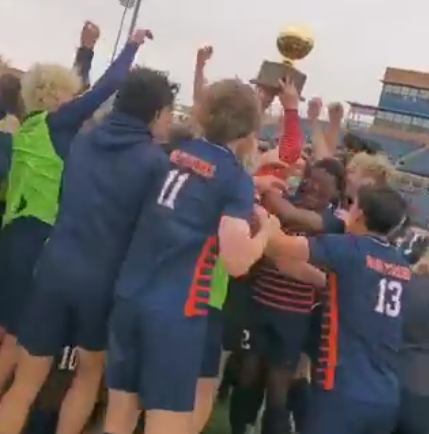 Today, the varsity boys soccer team clinched their spot in the state championship when they beat Del Valle High School in Midland, Texas in the state semifinals.
"It felt good to win our game today. We traveled a full 6 hour drive to come down here and we took the win. We played with heart and passion, so I felt like we deserved the win today. I know I'm pumped for the next game with this team," varsity player junior Micah Kelly said. 
After a tough game, the Wolverines won with a final score of 4-2. 
"The crowd was so hopeful, yet still stressed out until our fourth goal, which secured our win. We all went crazy and everyone was so incredibly proud of all the boys!" junior Emree Nagurney said. 
The boys dedicated their time and effort to make it this far and it paid off as they head to Georgetown to play for the State Championship on Saturday at 2 p.m..
"It was a happy moment, being able to hold up that trophy and the team coming together to celebrate. It was a relief that we were able to live up to the expectations that Wakeland soccer has," varsity player junior William Heidman said. 
This will be the fifth time Wakeland made it to the State Championship with two winning titles under their belt.