Promoting Student Entrepreneurs
ISM Students Presented Their Final Products At The Annual ISM Showcase
Maddie Cargile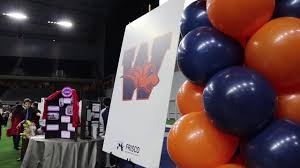 Maddie Cargile and Jared Gonzalez-Yapp, WIN-TV Reporters
January 24, 2019
Hang on for a minute...we're trying to find some more stories you might like.
This Wednesday night, Juniors and Seniors from Independent Study and Mentorship classes across the district come together under the lights of the Ford Center at the Star, to showcase hard work and development in their chosen field.
More than 90 tables, full of presentation boards of Junior and Senior ISM Student's cumulation of over a semester's worth of hard work related to their future career. 40 Wakeland students are a part of this program, studying careers ranging from broadcast journalism to aerospace engineering, to bridal design, and various other fields. Students work hard all semester to make their presentations, and their efforts were shown off to parents, friends, and even business professionals attending the event.
This is senior Shayla Armstrong's second year in the ISM program studying something to do with fashion design. Last year it was men's suits, this year women's wedding dresses. "I did it because I wanted to learn about the design process, patternmaking, and sewing techniques. My favorite part was seeing the finished product and all my hard work put into it. Also, it reflected how much I've learned in such a short amount of time and that was really exciting," Armstrong says. She will continue her fashion education at Texas Woman's University next year and says this class has prepared her for her future.
Great job on your hard work, Wakeland students.