Waco Bound
JD Gregson signs to play with Baylor University next year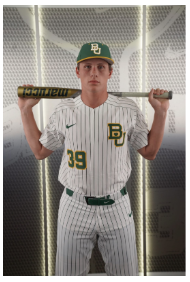 JD Gregson will trade in his orange and blue uniform for green and gold this summer. He committed to play baseball for Baylor University and officially signed Nov. 13, 2019.  
Going off to college and starting to grow a career, Gregson looks back to his first memories of baseball.
"I remember when I was little I used to watch baseball all the time, and everyday I played T-ball and I thought it was the best thing ever," Gregson said.
Passion and dedication persevered and JD continued to grow as a player. He worked hard, gained strength and currently holds a 1.70 pop time. 
His friends and family are excited for him and his future. "I don't really see him that much due to baseball, but if it makes him happy then I'm happy," younger sister freshman Katy Gregson said. 
Happiness helps JD play his best on the field. He currently plays and will continue to play catcher, which is one of the hardest positions in baseball. "[It's] not easy. I like it and how it's fun, but you get hit and hurt a lot, although I have gotten used to it," Gregson shared.
No pain, no gain holds true for JD. Hard work and dedication allows him to push through pain. Now, he looks forward to a new season as a Baylor Bear.