All Hail the King and Queen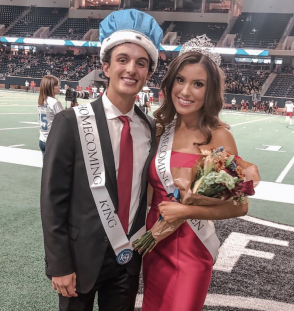 Lauren Ferguson, Wakeland Access Reporter
December 20, 2019
Andrew Gaschen and Sarah Savage won WHS 2019 Homecoming King and Queen. 
They have been together for over two years and won homecoming Prince and Princess last year. 
"I did not think I was going to win!" Sarah said laughing. "We were just super excited when we got nominated."
Andrew also said that winning was a "nice surprise".
They are both very well liked throughout WHS.
"They prove that high school relationships really can work. They also make an effort to be nice to everybody and reach out." one of Sarah's closest friends, Alyssa Meissner said.
"She's perfect and I love her style. She is very well known, everyone loves Sarah. Everyone likes Andrew a lot too" Andrew's sister, freshman Molly Gashen said.
Their relationship is admired by everyone, especially their loved ones.
"They call each other and make sure they get home safely, they visit each other at work. They're just so cute," Molly said. "If I don't have something like that, that's just unacceptable."
Savage and Gaschen met in ninth grade, AP human geography. "Shoutout to Ms. Hernandez, I love you." said Sarah, laughing.
And as much as they will deny it, they are often described as the model couple of class of 2020.
And they aren't crying over spilled milk… shakes. The couple made fun of how they just laugh at their clumsiness. They wouldn't be the same without Andrew spilling her milkshakes, Sarah falling to the ground, and other ungraceful accidents.
"You want to be able to be comfortable with him, chill in sweatpants, make stupid jokes and look ugly, but also dress up cute and go out," Sarah said.
Relationships don't always last a lifetime, however, Sarah and Andrew both hope to. 
"Just find someone that makes you happy," Andrew said.
"Find a good guy that treats you right," Sarah said. "Never settle for anything less."