As the Day Goes On
The school that never sleeps. Time changes hit FISD in 2021. When is the school day done?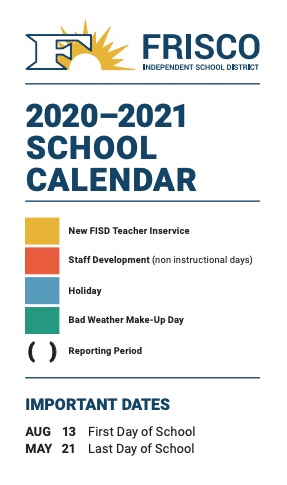 Kristen McGarvey, Reporter
January 27, 2020
High school students will spend more time in school with changes to the upcoming 2020-2021 school year.
 After going back and forth, the FISD School Board decided to add an extra 10 minutes to the school day. 
By implementing this new policy, FISD will be moving down from 174 days to a 171 day school calendar year. Adding extra time to the school day has made it possible for students to be released for summer break before Memorial Day. 
For the 2020-21 school year, summer break will start on May 21, 2021.
New 2020-2021 School Hours
Elementary: 7:45 a.m.- 3:05 p.m.
Middle: 8:25 a.m.- 3:45 p.m.
High School: 9:00 a.m.- 4:25 p.m.
While the parents of Frisco students have been requesting this change for quite a while, it highly impacts students and their after school activities. High school students will be the most affected due to after school activities, such as jobs and sports. 
It is the principal's choice to determine how the extra minutes are spread throughout the day, therefore there are many ways this time could be utilized. 
"The time that we add will most likely be used during homeroom, but the time during the rest of the week is still being decided," Assistant Principal Kenny Durand said.
According to the FISD website, "for secondary students, the additional time could be used for advisory to address targeted instructional gaps and personalized learning."
Durand believes that "this change won't be much different from the typical school day now. Everyone will look at it the same."
While some may argue that the school day is already long enough, some believe that this will provide an opportunity to have more learning time during classes. 
 "I agree with the change because there's more time to learn during the day," junior Sofia Mann said. 
Many juniors and seniors take the early release option, therefore this change will have no impact on those students. 
While some students might not approve of this change now, FISD believes it will benefit students and staff.