Free Food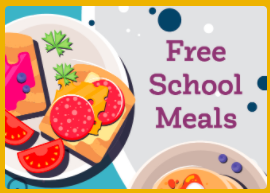 Due to the Coronavirus pandemic, free meals will be provided for all students until the end of the 2020-2021 school year.
Frisco ISD will provide a free breakfast and a free lunch each day to all students, including virtual learners and non-FISD students. 
For those who attend Virtual Academy, meals are available for pick-up when requested. Five days' worth of meals are distributed to virtual students every Thursday. To-go meals are only available to students that are virtually learning. 
When picking up to-go meals, parents need to have their child's name and ID written on a piece of paper placed on the passenger side window to help staff identify the student. Cafe staff will deliver the meals to the parent's car. 
FISD will also provide meals to those who attend charter and private schools, and those who are  homeschooled
More information on this federally funded program and how to pick up meals for those who are not attending FISD schools face-to-face is available on the Frisco ISD website at https://www.friscoisd.org/departments/covid-19/meal-service.