Power Lunch Makes its Big Return
After a year-long hiatus due to the COVID-19 pandemic, Power Lunch returns to Wakeland.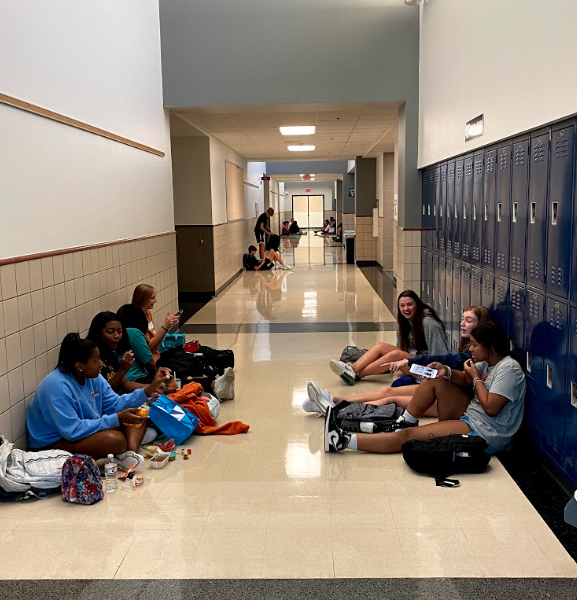 During the 2019-2020 school year, Power Lunch, an hour-long lunch that combines the lunch and advisory periods, made its debut. 
Students were able to pick and choose different spots across the Wakeland campus. The most popular spots include the stairwell, hallways, and teachers' classrooms. 
Power lunch allowed students to eat, finish assignments, and a chance to visit teachers for tutorials. 
Because of the COVID-19 pandemic during the 2020-2021 school year, WHS got rid of Power Lunch and returned to a lunch schedule. Students were assigned to the 5 different lunch periods, A-E. 
"[Last school year], if you had a later lunch, you would have to wait to eat," junior Campbell Bednar said. 
With the return of Power Lunch, students are now able to see friends they don't have classes with. 
"[One of my favorite things about Power Lunch] is being with all of my friends and just being anywhere at any time," sophomore Ryan Phelps said. 
One struggle for students last year with having many different lunch periods was worrying about whether or not they'd be able to have lunch with friends. 
"I missed power lunch last year because I was afraid I would not have anyone to sit with," senior Ayva Arnesen said. 
Not only does Power Lunch allow students the opportunity to socialize with their friends, but it also allows them to complete schoolwork. 
"I think it gives students a great opportunity to talk with their friends and get their homework done," senior Ella White said. 
Student-athletes have also found this hour-long period useful when it comes to finishing schoolwork. 
 "With sports, it's difficult to go to after school or before school tutorials because of practice and [tennis] matches, so having an hour to meet with teachers is very useful," junior Dylan Hauglid said. 
Teachers have also found power lunch to be more beneficial than the 30 minute break period last year.
"I do think [Power Lunch is] more beneficial to students. They get a chance to see all their friends and have the flexibility to do what they want, whether that's attending tutorials, hanging out with friends, or playing basketball in the gym. Plus 3rd period is the same amount of time as every other class and not 30 minutes long like it was last year," math teacher Mr. Handy said.
For teachers, Power Lunch is an opportunity to help students catch up on schoolwork or tutor them. 
"For the academic time, I'll have my door open for tutorials. Students can come by and get help on whatever they're struggling with within my class. They can also make up minor grades and small assignments," Mr. Handy said. 
Not only do students socialize with their friends while being productive, but Power Lunch gives teachers the same opportunity. 
"For us, they synced up to your lunch schedules so as a math department we can all eat together at the same time which is neat. It's also a nice break for us to print stuff off if needed," Mr. Handy said. 
Power Lunch allows students to have more flexibility when managing their time with schoolwork. 
"My favorite part [about Power Lunch] is having students have the flexibility to do whatever. It's a great learning opportunity for some students to manage their time wisely as well," Mr. Handy said. 
With the return of Power Lunch, students can finish assignments while being able to have fun with their friends.