Jesus Club: Small Yet Impactful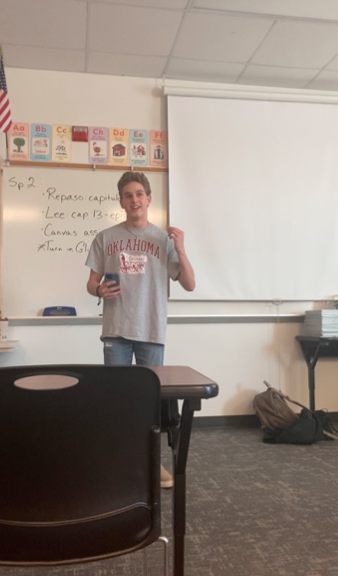 For the past few months a club dedicated to sharing the Christian faith and teaching about who Christ is, has been meeting at Wakeland every Tuesday. 
Although a small club, the Jesus Club is a part of a bigger community of students across the nation who are a part of the Meant For More movement in order to bring hope to their peers and have a positive impact on their campuses. 
A typical Jesus Club meeting lasts about 15-30 minutes, with one of the leaders giving a message related to Christ, Christianity, and the gospel, which means the "good news [of Christ]." Sometimes, the audience divides into breakout groups and discusses what they learned from the message and share what they liked about the message. 
President Keegan Frasier informs us of his reasons for hosting this club.
 "Jesus says to share the gospel…and He's changed my life personally and I want to let people know who He is so that He can change their lives too. Because He has led me through so many things, I want to spread that joy and spread that happiness," Frasier said.
Sponsor Señorita Cruz admires that "we're providing an opportunity for students to come in and learn about Jesus. Some who come in, I'm sure, already know about Jesus, and some, I know, don't know anything about Him."
Additionally, one regularly-attending member said that Wakeland needs this club because it's important to tell and teach others about the truth because it gives answers to anyone with questions about Jesus or Christianity.
The leaders welcome everyone into this club, regardless of what you believe, who you are, or what you've done. They are focused on sharing the gospel with others, encouraging students, and praying for students, so join them during the second half of power lunch in room C210 every Tuesday!